God Is Love
by W. E. Best
Copyright © 1986 W. E. Best
In this 10 chapter work by Best (Assembly of Christ), Pastor Best studies the love of God. He first looks at love as God declares "God is love". Then he examines how the divine purpose guarantess the manifestation of God's love, God's love elects some, man cannot comprehend this divine love in election, love is discriminating, God loves some and hates others, the difference between God's hate and wrath, the divine love calls the elect, and God sends his messengers to proclaim this love.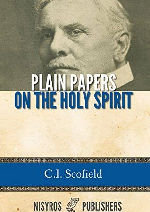 Scofield Plain Papers on the Holy Spirit is a work of 5 chapters by the editor of the Scofield Bible, C.I. Scofield. He was a great biblical scholar. I am presenting this work in various formats.
PDF: Scofield Plain Papers on the Holy Spirit
theWord: Scofield Plain Papers on the Holy Spirit
eSword: Scofield Plain Papers on the Holy Spirit
MySword: Scofield Plain Papers on the Holy Spirit

CONTENTS
1. God Is Love
2. God's Purpose Guarantees The Manifestation Of His Love
3. God In Love Elected Some
4. Man Cannot Comprehend God's Love In Election
5. God's Love Is Discriminating
6. God Love Some And Hates Others
7. God's Hate And Wrath Differ
8. The Love Of God Is A Truth For Saints
9. In Love God Calls The Elect
10. God Sends Messengers To Proclaim His Love
MySwordmodules is a website dedicate to the MySword Bible Program for Androird devices. We host MySword Modules.

.
Please help us keep this website up. We work hard to be a blessing to you. Donate to us. Even a $5 or $10 donation is greatly appreciated. All donations will go to pay hosting and domain fees.
https://www.paypal.com/paypalme/davidcoxmex is the link to get to PayPal.
You can use your PayPal account if you have one, or you can donate using any normal debit or credit card, pay through PayPal and chose just Debit or Credit Card.