This is a modern Bible Companion Handbook by Boa (Dallas Theological Seminary Orientation).
Treasury of Scriptural Knowledge is a Bible Cross Reference taken from hundreds of study Bibles arranged by each verse of the Bible. This is a fantastic study resource. Using this in Sermon Preparation, you can make powerful sermons without really using many other resources. It is very useful.

COMPANION TO THE BIBLE.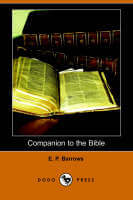 BY REV. E.P. BARROWS, D.D., PROFESSOR OF BIBLICAL LITERATURE.
(Also known as "People's Companion to the Bible")
This is a Bible Companion Manual, with 39 chapters on various topics of the Bible, for example: the Genuineness of the Gospels, the preservation of the Gospels, the disputed books, Inspiration and canon, OT and NT relationships, authorship of the Pentateuch, formation of the canon, ancients versions, apocryphal books of OT, principles of Biblical Interpretation, figures in Scripture and Types, Interpreting prophecy. Continue reading →