Efficacious Grace
Loraine Boettner
In this 8 chapter work by Boettner (Reformed, Presbyterian), he examines common (that being enjoyed by all people). He first looks to the Westminster Confession's teaching, then the necessity of change, the inward change done by supernatural power, the effect produced in the soul, the sufficienc of Christ's work — evangelicalism, the Arminian view of Universal Grace, No violation of Man's free agency, and common Grace.


Baxter Directions for a Peaceful Death is an article of 15 points on a Christian approaching his death and what he should be thinking about. This theme is good for the sick, but everybody should also meditate on these things. (Baxter is reformed).
CONTENTS
1. Teaching of the Westminster Confession
2. Necessity for the Change.
3. An Inward change wrought by supernatural Power.
4. The effect produced in the Soul.
5. The Sufficiency of Christ's Work — Evangelicalism
6. Arminian View of Universal Grace.
7. No violation of Man's Free Agency.
8. Common Grace.
Author
Dr. Boettner was born on a farm in northwest Missouri. He was a graduate of Princeton Theological Seminary (Th.B., 1928; Th.M., 1929), where he studied Systematic Theology under the late Dr. C. W. Hodge. Previously he had graduated from Tarkio College, Missouri, and had taken a short course in Agriculture at the University of Missouri. In 1933 he received the honorary degree of Doctor of Divinity, and in 1957 the degree of Doctor of Literature. He taught Bible for eight years in Pikeville College, Kentucky. A resident of Washington, D.C., eleven years and of Los Angeles three years. His home was in Rock Port, Missouri. His other books include: Roman Catholicism, Studies in Theology, Immortality, and The Millennium.
It is my understanding that works published between 1923-1963 have a 28 year first term of copyright, and IF RENEWED, they have an additional 47 years. On Sept 12, 2011, the rutgers.edu, sanford.edu, and http://cocatalog.loc.gov renewal databases were searched and no renewals were found in those databases for Loraine Boettner, much less this specific work.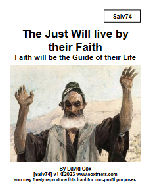 salv74 The Just Will live by their Faith is an examination of the places where this occurs in Scripture, as well as what it means. TOPICS: What is Faith? | Faith and Israel's Destruction | The Principle of Faith, the End of Faith | Faith guides us | If you have faith, do not go backwards | Faith is through receiving God.
Read the Tract: salv74 The Just Will live by their Faith
MySwordmodules is a website dedicate to the MySword Bible Program for Androird devices. We host MySword Modules.

Missionary on Furlough Spiritual Needs is an article by David Cox (veteran missionary) to help pastors and missionaries understand missionary needs.
Excerpt: When a pastor "takes in a missionary on deputation or furlough", he ministers to that missionary.... Pastors also need this encouragement as much as missionaries need it. When they get together to fellowship, they are able to encourage one another. But every pastor ministering to a returning missionary should encourage them along these lines of faithfulness and reward in eternity.
Topics: Introduction | Unfit Missionaries that should not be missionaries at all | Stop the Merry-go-round, I want to get off | Some Tips for Pastors Encouraging Missionaries | 1. Do not undermine their way of leading or doing the ministry | 2. The two essential elements are talk and prayer. | 3. Get more than just the pastor involved in praying for the missionary. | Remind your missionary by asking for an update if it has been a while. | Effectively disseminate prayer requests.
Read the Article: Missionary on Furlough Spiritual Needs.