The Post Tribulation Rapture
By William Arnold III
Post Tribulation Rapture is an eight chapter work on a pro-Post Tribulation Rapture position.
Table of Contents of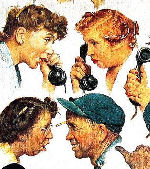 Church Planting Articles: Handling Gossip is a short article on considerations of Pastors being married and having children. These are requirements that God places on pastors. For those who do not think they need to be married, yet qualify for being pastors, the Bible sternly states otherwise.
See my Tract: pc29 Don-t be a Gossip.
1. Introduction
2. The Biblical Basis for Post-Tribulationism
3. Order and Scope of the Book of Revelation
4. Various Themes
5. Key Greek Words and Terms
6. But What About . . .
7. History of Pre- and Post-Tribulationism
8. Supporting Arguments
Foreword
In this work, William Arnold III has accepted the challenge of offering a solid Biblical answer to the pervasive doctrine of pre-tribulationism. He has examined crucial Biblical passages relevant to the ongoing debate of pre-tribulationism vv. post-tribulationism. Through exegesis of Scripture and pertinent historical information, the author has built a strong case for the reality of a post-tribulational rapture of the church.
The time of the rapture is never stated in the Scripture as clearly as prophecy teachers would like it to be, no matter what their personal persuasion regarding the rapture may be. The variety of teachings on this subject by respectable theologians is evidence of this very fact. There is enough evidence to build a case for each of the views. This author has built a very strong case for a post-tribulational rapture of the church; a case in which I am persuaded is the strongest of all. It has been said that the mind is like a parachute, it works best when it is open. I pray you would have an open mind to hear the argument of the author, and let it challenge you to re-examine your own doctrinal position on this sometimes heated topic.
–Jason Dulle
All or part of this book may be reproduced, stored in a retrieval system, or transmitted in any form or by any means free of charge without prior written permission as long as the author is given proper credit and there is no charge whatsoever. Unless otherwise indicated, scripture quotations are taken from the New American Standard Bible (NASB), 1977 by The Lockman Foundation. Used by permission.
Special thanks go to: Jason Clark, Stuart Young, Jason Dulle, Lance Kidwell, Alan Mostrom, Steve Green, my mother and my father. Your reviews of this work have been very helpful and greatly appreciated.  Post Tribulation Rapture

MySwordmodules is a website dedicate to the MySword Bible Program for Androird devices. We host MySword Modules.

.
Please help us keep this website up. We work hard to be a blessing to you. Donate to us. Even a $5 or $10 donation is greatly appreciated. All donations will go to pay hosting and domain fees.
https://www.paypal.com/paypalme/davidcoxmex is the link to get to PayPal.
You can use your PayPal account if you have one, or you can donate using any normal debit or credit card, pay through PayPal and chose just Debit or Credit Card.