The True Estimate of Life and How to Live it
by G. Campbell Morgan (1897)
In this book by Pastor Morgan, he presents us with a view of the general value of life. He uses various examples, from Paul to Naaman, to Lot's pitching towards Sodom to teach us the values of life, and values in life.




CONTENTS of Morgan True Estimate of Life and How to Live it
1. Paul's Estimate of Life
2. Health of Spirit
3. Naaman or the Second "But"
4. Wouldest Thou be Made Whole?
5. Clay in the Potter's Hand
6. The Divine Government of Human Lives
7. Redeeming the Time
8. Gathering or Scattering
9. Pitching Toward Sodom
More Works by Morgan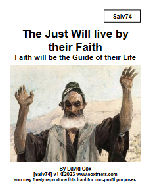 salv74 The Just Will live by their Faith is an examination of the places where this occurs in Scripture, as well as what it means. TOPICS: What is Faith? | Faith and Israel's Destruction | The Principle of Faith, the End of Faith | Faith guides us | If you have faith, do not go backwards | Faith is through receiving God.
Read the Tract: salv74 The Just Will live by their Faith
MySwordmodules is a website dedicate to the MySword Bible Program for Androird devices. We host MySword Modules.

.
Please help us keep this website up. We work hard to be a blessing to you. Donate to us. Even a $5 or $10 donation is greatly appreciated. All donations will go to pay hosting and domain fees.
https://www.paypal.com/paypalme/davidcoxmex is the link to get to PayPal.
You can use your PayPal account if you have one, or you can donate using any normal debit or credit card, pay through PayPal and chose just Debit or Credit Card.