Evidence from Scripture and History of the Second Coming of Christ
by William Miller [1842]
This is a collection of lectures by William Miller (1782-1849), a 19th century preacher who managed to convince himself and thousands of others that Jesus would return in 1844. Born a Baptist, he became a Deist and Freemason. After he fought in the war of 1812, he had a spiritual epiphany, and was called back to Baptism. After much study, Miller became convinced that Biblical chronology pointed to the immiment end of the world, and in 1832, was confident enough to publicize his beliefs.
As the deadline approached, his followers grew into a huge movement. The calculations were refined by his disciples, and October 22, 1844 was determined to be the day. As that date approached, Millerites sold their homes and business, and flocked to the hills to await the last judgement. Of course, nothing out of the ordinary occurred, and most of Miller's followers melted away as quickly as they had joined. This became known as 'the Great Disappointment.' However, the concept of the imminent return of Jesus has been a major component of evangelical Christian thought for the past century. Few have been so bold as to set an actual date certain for the end of the world. Most millennialists today simply point to various signs and portents to suggest that the end is near.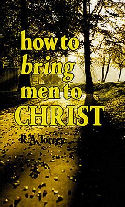 Torrey How to Bring Men to Christ is a manual for witnessing to the unsaved to lead them to Christ. It has hints, tips, and suggestions. 13 Chapters.
Downloads:
PDF: Torrey How to bring men to Christ
theWord: Torrey How to bring men to Christ
MySword: Torrey How to bring men to Christ
eSword: Torrey How to bring men to Christ
CONTENTS
Introduction
Index
Lecture 1. The Second Appearing of Christ
Lecture 2. The First Resurrection
Lecture 3. The Two Thousand Three Hundred Days
Lecture 4. Seventy weeks are determined upon thy people…
Lecture 5. Pagan Rome Numbered
Lecture 6. Daniel's Vision of the Latter Days
Lecture 7. Daniel's 1260, 1290, and 1335 Days Explained
Lecture 8. The Three Woe Trumpets
Lecture 9. The Epistles to the Seven Churches of Asia, Considered as Applying to Seven Periods of the Gospel Church, Part I.
Lecture 10. The Epistles to the Seven Churches of Asia, Considered as Applying to Seven Periods of the Gospel Church, Part II
Lecture 11. The New Song
Lecture 12. The Seven Seals, as Representing Events to the End of Time
Lecture 13. The Two Witnesses, as Having Been Slain in the French Revolution
Lecture 14. The Woman in the Wilderness
Lecture 15. The Seven Last Plagues, or Seven Vials
Lecture 16. The Parable of the Ten Virgins
Lecture 17. On the Punishment of the People of God Seven Times for their Sins
Lecture 18. Who is this that cometh up from the wilderness, leaning upon her beloved?
Lecture 19. Signs of the Present Times
Supplement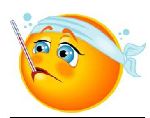 Divine use of Sickness CP34 Divine use of Sickness
Read this tract by Pastor Cox about the divine use of sickness explains how God works with sickness to remind man of his limited time on earth, the consequences of sin, etc.
In this tract Pastor Cox explains how God positively uses sickness to help us turn our thoughts and attention to the eternal. We get so involved in our daily lives sometimes that we forget that our life is but a vapor on this earth, soon to no longer be. God uses sickness as a severe warning that our time is running out, and we need to live as though every moment has a forward view towards eternity. How we spend our life is important. Sections:
1. Understanding that God is God
2. Sickness because of Sin
3. Warning about approaching Death
4. Warning about Human weakness
5. The Error of the Sick
6. God listens to those who ask in sincerity

Job 13:15 Though he slay me, yet will I trust in him: but I will maintain mine own ways before him.
There is an attitude within much of Christianity that sickness in any form is bad, and God does not have anything to do with it. For these Christans, they ask God to take the sickness away, and sometimes (as though it was their right to be health) that they demand God to remove their sickness. The reality of life is that they continue ill, and many have a crisis of faith over this. For them, God is impotent, or God does not love them. In other words, their confidence, faith, and love of God depends on God always sending them good things. But this is not how the Bible indicates life is. God uses calamity and sickness for His own purposes and we have to understand this (and accept it).
Please support our tract ministry by donating on the tract website (see sidebar). Because of your donations we can offer these tracts online, and for free.
Read the Tract CH34
Please donate on sidebar to help support this website.
MySwordmodules is a website dedicate to the MySword Bible Program for Androird devices. We host MySword Modules.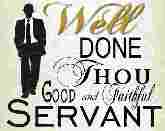 Helping Returning Missionaries are my thoughts and suggestions for missionaries returning on furlough to the States, also those on deputation. Topics: How are we helping returning missionaries? | Let me put forth my mindset. | Coming Home and Culture Shock | The Problems of Cyber Space and Missionaries | Stick to Standard Forms of Communication | You can Help Returning Missionaries by understanding their lifestyle | More Lifestyle Differences | Helping Missionaries with Dental, Eyecare, Medical Care | Churches can help Returning missionaries - Housing | Small stuff | Get expert Advice | My Best Experiences with Visiting a Church as a Missionary Speaker.
Read the Article: Helping Returning Missionaries.