The Mysteries of the Kingdom
by Joseph Baylee
A SERIES OF EXPOSITORY SKETCHES  OF OUR BLESSED SAVIOUR'S PARABLES.
By the REV. JOSEPH BAYLEE. D.D.,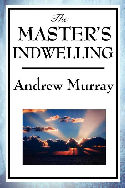 Murray Andrew Master's Indwelling is a 13 chapter work on how the Christian's relationship with Our Lord Jesus Christ should be. Chapters are... Carnal Christians, The Self Life, Waiting on God, Entrance into Rest, the Kingdom First, Christ our Life, Christ's Humility our Salvation, Complete Surrender, Dead with Christ, Joy in the Holy Ghost, Triumph of Faith, Source of Power in Prayer, That God may be all in all.
Downloads
PDF: Murray Andrew Master's Indwelling.
theWord: Murray Andrew Master's Indwelling.
MySword: Murray Andrew Master's Indwelling.
eSword: Murray Andrew Master's Indwelling.
LONDON:
PRINCIPAL OF ST. AIDAN'S COLLEGE, AND INCUMBENT OF HOLY TRINITY CHURCH, BIRKEHEAD
LONGMAN. BROWN, GREEN, A.
LIVERPOOL: EDWARD HOWELL
www.archive.org
Summary
This is a series of 12 chapters on the Kingdom Parables.
Chapter Content
Introductory Remarks on Parabolic Teaching 3
PARABLES.
I. The Sower 19
II. The Wheat and the Tares 87
III. Grain of Mustard Seed 53
IV. The Leaven 79
V. The Hidden Treasure 97
VI. Pearl of Great Price 113
VII. Gospel Net 127
VIII. Householder 145
IX. Lost Sheep 165
X. Two Debtors 181
XI. Two Debtors, (Second Part) 195
XII. Unmerciful Servant 213
XIII. Labourer in the Vineyard 231
XIV. The Two Sons 245
XV. Householder and Husbandmen 259
XVI. Wedding Garment 279
XVII. Fig Tree 295
XVIII Fig Tree, (Second Part) 307
XIX Ten Virgins 329
XX. Ten Virgins, (Second Part) 347
XXI. The Talents 367
XXII. The Judgment 385
ERRATA.
About the Author
Joseph Baylee, D.D. (1808–1883), was a theological writer.
Baylee received his education at Trinity College, Dublin (B.A. 1834, M.A. 1848, B.D. and D.D. 1852). To the residents of Liverpool and Birkenhead his name became for a quarter of a century a household word, on account of his activity as the founder and first principal of St. Aidan's Theological College, Birkenhead, where he prepared many students for the work of the ministry. This institution, which may be said to have been founded in 1846, originated in a private theological class conducted by Dr. Baylee, under the sanction of the Bishop of Chester, Dr. Sumner, afterward advanced to the see of Canterbury.
Dr. Baylee's successful exertions changed it into a public institution, and led to the construction of the present college building, which was opened in 1856. At one time Dr. Baylee was well known as a champion of the evangelical party, and especially for his theological discussions with members of the Roman Catholic Church. Accounts were published of his controversies with Thomas Joseph Brown, bishop of Apollonia (afterward of Newport and Menevia), on the infallibility of the church of Rome (1852), with Matthew Bridges on Protestantism v.. Catholicism (1856), and with Edward Miall, M.P., on Church establishments.
In 1871 Dr. Baylee was presented to the vicarage of Shepscombe, Gloucestershire, where he died 7 July 1883.



ch49 The Biblical Pastor: The Biblical Duty outlines the duties of a pastor.
Topics: Pastoral Watchcare | Threats to wicked Pastors | Spiritual feeding | Being a Watchman (warning and protecting) | Pastoral Visitation | Intercession by prayer | Pastoring because you love Christ.
Excerpt: The concept of "visit" or "visitation" refers to the pastoral duty (spiritual watchcare of others) in which he analyzes the problems to effect a remedy. This concept is basically "visit". Jesus identified the true believer as a person which has the naturally emerging joy to serve and help others.
Read the tract: ch49 The Biblical Pastor: The Biblical Duty.
MySwordmodules is a website dedicate to the MySword Bible Program for Androird devices. We host MySword Modules.
Donate a Cup of Coffee to Me



It takes a lot of work, energy, time, and money to create, maintain, protect, and make new works constantly. While you may benefit from all my work only spending 5 minutes a week, it takes me hours and hours, and hackers attacking, many more. Just $5 dollars goes a long way to cover my financial burden of managing this site.
Click to donate any amount.