Easton's Illustrated Bible Dictionary [Easton]
Summary
Easton's Bible Dictionary generally refers to the Illustrated Bible Dictionary, Third Edition, by Matthew George Easton, M.A., D.D. (1823-1894), published in 1897 (three years after Easton's death) by Thomas Nelson. Because of its age, it is now a public domain resource. It contains nearly 4,000 entries relating to the Bible, from a 19th century Christian viewpoint. Despite its name, many of the entries in Easton's are encyclopedic in nature, though there are also short, dictionary-like entries.




Download
Download: Easton's Illustrated Bible Dictionary [Easton]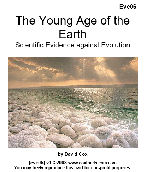 evc06 The Young Age of the Earth We explain why scientific evidence supports a young earth against evolutions long time spans. Evolutionists insist on extremely long time spans in earth's past and formation, because evolution "is not seen", i.e., there is no present evidence of the evolutionary theory process today. So they insert time such that no scientist can study it nor observe it. This tract clears this point up from a creationist's point of view. God formed the earth instantly, not over long time spans.
Topics: The Salinity of the Oceans | Time is important | The Long Spans of Time | Bayes Law | First law of Thermodynamics | Second law of Thermodynamics | The Error of Presuming that everything continues Today as It Happened in the Past | Topsoil Testimony | The Accumulation of Space Dust on Meteors | The Sun, the Meteors, and the Moon | The Magnetic Field | The Deterioration in the Rotation of the Earth | Helium in the Atmosphere | The Process to Discern Age by Carbon 14.
Read the Tract: evc06 The Young Age of the Earth.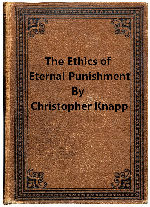 Knapp The Ethics of Eternal Punishment is a single chapter work on the everlasting or eternity of hell. Christopher Knapp is a brethren author.
PDF: Knapp The Ethics of Eternal Punishment
theWord: Knapp The Ethics of Eternal Punishment
MySword: Knapp The Ethics of Eternal Punishment
eSword: Knapp The Ethics of Eternal Punishment
MySwordmodules is a website dedicate to the MySword Bible Program for Androird devices. We host MySword Modules.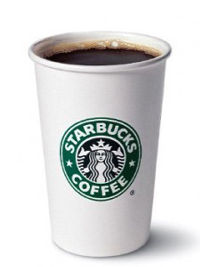 Most people buy a cup of coffee many times during a year. I spend my time and money writing good doctrinal content, and I am finding and formatting good old books for the Christian public to use in their studying the Bible. I have Bible college degrees where I have studied Greek and Hebrew. I have had donations over the years, but usually it is very little, like once every 6 months to once a year sometimes. One of my sites (I have 34 sites, about half are in English and the rest in Spanish) costs me about $10/month per site. Because the rent for having these sites on the Internet comes due every month, I have to pay it out of what me and my wife have to pay rent and food. Please consider a donation of any amount. Just a donation of the price of a cup of coffee can greatly help us with these costs and assure that new material is always coming.
-------- >>> Donate Today <<<--------
Even a small donation will help me greatly! Thank you! May God bless you for your prayers and your financial donations. (If you do not have a PayPal account, there is an option to donate using any bank or credit card even though you don't have a PayPal account.