The Power of the Spirit
Power of the Spirit
by Percy Dreamer, M.A., D.D.
Professor of Ecclesiastical Art, King's College London
Humphrey Milford Oxford University Press
London, Edinburgh, Glasgow, New York, Toronto, Melbourne, Cape Town, Bombay 1919
www.archive.org/details/MN41352ucmf_8
Printed in England at the Oxford University Press
In this short 4 chapter work by Percy Dreamer (Anglican) he does a study on the Power of the Holy Spirit, presenting us with the Military Value, the Gifts of the Spirit, the Talents of the Spirit, and the fruits of the Spirit. 
CONTENTS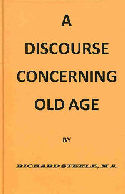 Steele A Discourse Concerning Old-age is a 109 page work on Christian Counsel to those who are aged, looking at different aspects of old age from a Christian point of view. This is an old work, but sound advice from Scripture is timeless.
PDF: Steele A Discourse Concerning Old-age.PDF
OpenOffice: Steele A Discourse Concerning Old-age.odt
theWord: Steele A Discourse Concerning Old-age.twm
eSword: Steele A Discourse Concerning Old-age.topx
MySword: Steele A Discourse Concerning Old-age.mybible
1. Military Virtue p 7
2. The Gifts of the Spirit p 27
3. The Talents of the Spirit p 54
4. The Fruits of the Spirit p 81
PREFACE
IN one of the chief text-books of theology used in our theological seminaries, the following references are given by the index:' Holy Ghost, addition of Article on, 198; Divinity of, 199; distinct personality of, 201; history of the doctrine of, 204; procession of, 209; blasphemy against; 446 seq.- –
This seemed to leave room for a little more upon the subject; I therefore ventured to choose 'The Power of the Spirit ' as the subject for the Page Lectures, at Berkeley Divinity School, Middletown, Connecticut, this year.
1919.

MySwordmodules is a website dedicate to the MySword Bible Program for Androird devices. We host MySword Modules.

.
Please help us keep this website up. We work hard to be a blessing to you. Donate to us. Even a $5 or $10 donation is greatly appreciated. All donations will go to pay hosting and domain fees.
https://www.paypal.com/paypalme/davidcoxmex is the link to get to PayPal.
You can use your PayPal account if you have one, or you can donate using any normal debit or credit card, pay through PayPal and chose just Debit or Credit Card.