Roman Catholicism
By Lorraine Boettner
Dr. Boettner's careful and accurate review of Roman Catholic theology and his thorough and Biblical refutation of it has long been a masterpiece on the subject. The nineteen chapters cover every aspect of Romish belief and are presented here in five sections for the reader's convenience. Combined with Hislop's work, no more comprehensive review and exposure of the errors of Rome, their origin and their significance, exists in print.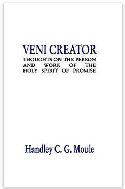 Moule Veni Creati is an old, well known work in studies in the Holy Spirit by Bishop (Anglican) H.G.C. Moule. It has 12 chapters. It is a deep treatment of the Holy Spirit. Although Moule was Anglican, his writings are well written and good.
Downloads:
theWord: Moule Veni Creati
MySword: Moule Veni Creati
ESword:Moule Veni Creati
Adobe Acrobat PDF: Moule Veni Creati
CONTENTS
Section I
1. Introduction.
2. The Church
3. The Priesthood
4. Tradition
5. Peter
Section II
6. The Papacy
7. Mary
8. The Mass
9. The Confessional
10. Purgatory
Section III
11. The infallibility of the Pope
12. Penance & Indulgences
13. Ritualism
14. Celibacy
15. Marriage
Section IV
16. The Parochial School
17. By what moral standard
18. Intolerance, Bigotry, and Persecution
19. A System Tested by its fruits.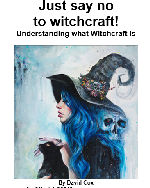 pc56 Just Say no to Witchcraft! Understanding Witchcraft. we examine witchcraft in the light of the Bible, your will or accepting God's will.
Topics: What is Witchcraft? | How does one practice witchcraft? | The Importance of Rejecting Witchcraft | How do we reject it? | Conclusion.
Excerpt: We must worship that God, because He is our Creator, and we must seek his moral guidance in life, and for whatever matter that we need or want, we must go to Him first to see if it is what we should seek and ask God for (if it is His will for us). Having established this, witchcraft is to seek spirits or occult principles to get what we want (our own will).
pc56 Just Say no to Witchcraft! Understanding Witchcraft.
MySwordmodules is a website dedicate to the MySword Bible Program for Androird devices. We host MySword Modules.

Have you ever eaten Fried Ice Cream! Donate! It is delicious, like apple pie with vanilla ice cream on top. But you know that you cannot have what is good without somebody paying for it. If you have enjoyed things on my website, please consider helping me out on the expenses and keeping it on the Internet. Can you consider at least a one time donation to this ministry of $10 or $20 dollars? I have a monthly total of about 96 gigabytes total being downloaded monthly from all of my websites. Be a blessing to me and donate any amount. It would be really great if you could gift me and my wife (she wants oa fried ice cream too) this money so that we could enjoy eating out at least once in a while. (I pay the expenses for these sites out of our living expenses.) God will richly bless you and repay you for your generosity. 1 Timothy 5:18 For the scripture saith, Thou shalt not muzzle the ox that treadeth out the corn. And, The labourer is worthy of his reward. If you received some value from my websites, consider at least a small donation. A big donation would really be nice, too, though.
---->>>>Donate to David Cox Ministries.<<<<----
They deep freeze the ice cream ball, and coat it with batter only a few seconds before they deep fry it, and then only fry it for a few seconds.