Total Depravity
Loraine Boettner
In this 7 chapter work on the Total Depravity of man, Boettner states the doctrine, and then examines the extent and effects of original sin, the defects in man's "virtues", the fall of man, the representative principle, and the goodness and severity of God.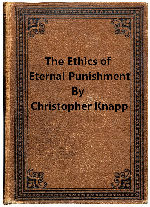 Knapp The Ethics of Eternal Punishment is a single chapter work on the everlasting or eternity of hell. Christopher Knapp is a brethren author.
PDF: Knapp The Ethics of Eternal Punishment
theWord: Knapp The Ethics of Eternal Punishment
MySword: Knapp The Ethics of Eternal Punishment
eSword: Knapp The Ethics of Eternal Punishment
Contents:
1. STATEMENT OF THE DOCTRINE
2. THE EXTENT AND EFFECTS OF ORIGINAL SIN
3. THE DEFECTS IN MAN'S COMMON VIRTUES
4. THE FALL OF MAN
5. THE REPRESENTATIVE PRINCIPLE
6. THE GOODNESS AND SEVERITY OF GOD
7. SCRIPTURE PROOF
Notes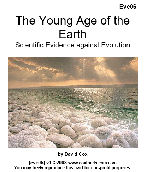 evc06 The Young Age of the Earth We explain why scientific evidence supports a young earth against evolutions long time spans. Evolutionists insist on extremely long time spans in earth's past and formation, because evolution "is not seen", i.e., there is no present evidence of the evolutionary theory process today. So they insert time such that no scientist can study it nor observe it. This tract clears this point up from a creationist's point of view. God formed the earth instantly, not over long time spans.
Topics: The Salinity of the Oceans | Time is important | The Long Spans of Time | Bayes Law | First law of Thermodynamics | Second law of Thermodynamics | The Error of Presuming that everything continues Today as It Happened in the Past | Topsoil Testimony | The Accumulation of Space Dust on Meteors | The Sun, the Meteors, and the Moon | The Magnetic Field | The Deterioration in the Rotation of the Earth | Helium in the Atmosphere | The Process to Discern Age by Carbon 14.
Read the Tract: evc06 The Young Age of the Earth.
MySwordmodules is a website dedicate to the MySword Bible Program for Androird devices. We host MySword Modules.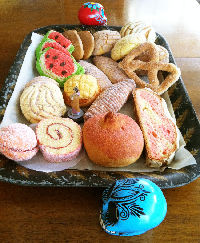 Buy me a piece of Mexican SweetBread!
Everybody likes sweet bread. In Mexico, it is a tradition to eat this sweetbread with coffee or hot chocolate before going to bed. But alas, while you are also enjoying the delicious stuff from my websites, I am out of money. A gift of any amount will at least let us buy a piece of sweetbread.
Please donate something for the upkeep of this website. I am bearing the burden of the monthly upkeep for years now, and I only have a few donations PER YEAR out of all of my websites, and that only like $25 dollars each time.