God's Answer to Man's Sin
by Hyman J. Appelman
Author, "Ye Must Be Born Again"
Copyright @ 1940
by Zondervan Publishing House
In this 9 Chapter book of sermons, God's Answer to Man's Sin, Appelman presents us with 9 sermons: God's Answer to Man's Sin, I am Debtor, Taking Christ's Place, Soul Suicide, Scriptural Christianity, Blood Purge, The Price of Souls, I know there is a heaven.
Contents of God's Answer to Man's Sin
1. God's Answer to Man's Sin
2. "I Am Debtor"
3. Taking Christ's Place
4. The Ultimate Question
5. Soul Suicide
6. Scriptural Christianity
7. Blood Purge
8. The Price of Souls
9. I Know There is a Heaven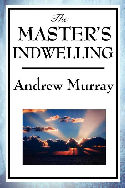 Murray Andrew Master's Indwelling is a 13 chapter work on how the Christian's relationship with Our Lord Jesus Christ should be. Chapters are... Carnal Christians, The Self Life, Waiting on God, Entrance into Rest, the Kingdom First, Christ our Life, Christ's Humility our Salvation, Complete Surrender, Dead with Christ, Joy in the Holy Ghost, Triumph of Faith, Source of Power in Prayer, That God may be all in all.
Downloads
PDF: Murray Andrew Master's Indwelling.
theWord: Murray Andrew Master's Indwelling.
MySword: Murray Andrew Master's Indwelling.
eSword: Murray Andrew Master's Indwelling.
DEDICATED TO
Verna May, Edgar Jascha, and Esta
Rebecca My Wife and two Babies
PREFACE of God's Answer to Man's Sin
ALTHOUGH these sermons are published by request, there is but one reason for sending them out into the world. The Lord has used them in the salvation of tens of thousands of souls, Jews and Gentiles, young and old. They are put out with the passionate prayer that the reading of them may win others to Christ.
Every one of them was preached and written in the pressure, the drive, the heat of evangelistic service. There was little time for grammar, rhetoric, oratory, polish. Do not judge them too harshly. They come, each of them, from the burning soul, from the burdened heart, from the longing mind, from the weeping eyes of this poor Jew. Read them! Pass them on to others! Pray for their preacher.
God be with you. God bless you. God use you in the winning of precious souls to a saving acceptance of the Son of God. In Jesus' name. Amen.
Hyman J. Appelman
Fort Worth, Texas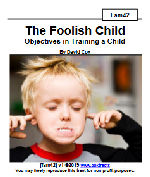 fam42 The Foolish Child explains what the Bible teaches on fools and foolishness, and also a parent's solution to a foolish child.
Excerpts: Ecclesiastes 4:13 Better is a poor and a wise child than an old and foolish king, who will no more be admonished. A fool is a person who rejects advice.
We can define the concept of foolishness as the lack of values and vision toward eternity, toward spiritual things. In other words, this person lives focusing on things that the person wants, and he does not pay attention to what God says as being important, or how God says we should live.
Proverbs 18:2 A fool hath no delight in understanding, but that his heart may discover itself.
The basis of being wise is that you do not limit yourself, to just what you think you know. A wise person opens his thinking to the wisdom and advice of others, and weighs others' opinions to see if they are right or not. The foolish only considers what he himself thinks, or what other fools like him think.
View tract: fam42 The Foolish Child
MySwordmodules is a website dedicate to the MySword Bible Program for Androird devices. We host MySword Modules.
Donate a Cup of Coffee to Me



It takes a lot of work, energy, time, and money to create, maintain, protect, and make new works constantly. While you may benefit from all my work only spending 5 minutes a week, it takes me hours and hours, and hackers attacking, many more. Just $5 dollars goes a long way to cover my financial burden of managing this site.
Click to donate any amount.