The Manual of Intercessory Prayer
ARRANGED BY
THE REV. R. M. BENSON, M.A,
SUPERIOR, SOC. S. JOHN iT, COWIBI 3, JOHN'S, OXOH.
LONDON: J. T. HATES, LYALL PLACE, EATON SQUAKE; & 4, HENRIETTA STREET, COYENT GAEDES, LONDON
SWIFT AND CO, PRINTERS, NEWTON STREET, HIGH HOLBORN, W.C.
112694
This work is divided into various parts. The first part is a study on prayer, and the later parts are sample prayers. I believe Benson is either a Catholic or Anglican priest. At first glance (me being Protestant), I would say that I dislike the idea of "canned prayers" altogether. After reading through some of these prayers though, I began to realize that Benson focuses this work on assembling preciously worded prayers for every occasion. I think the meaningless repetition of prayer is useless and a sin, but I must admit that some of these prayers are nicely worded for public services or for certain occasions when "you just don't know how to pray for somebody." See 117 A Prayer for Lunatics for example. Excellent little prayer.
CONTENTS of Benson Manual of Intercessory Prayer
CHAPTER I. Notice of the Association… 7
CHAPTER II. On the Importance of Intercessory Prayer. 18
CHAPTER III. On the Importance of Union in Prayer. 27
CHAPTER IV. Union in Prayer for the Unconverted.. 37
CHAPTER V. Suggestions as to the mode of spending one quarter of an hour daily in Prayer for the Unconverted… 43
CHAPTER VI. On Suitable Devotions… 63

.
Please help us keep this website up. We work hard to be a blessing to you. Donate to us. Even a $5 or $10 donation is greatly appreciated. All donations will go to pay hosting and domain fees.
https://www.paypal.com/paypalme/davidcoxmex is the link to get to PayPal.
You can use your PayPal account if you have one, or you can donate using any normal debit or credit card, pay through PayPal and chose just Debit or Credit Card.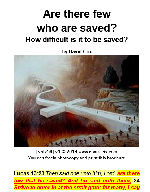 salv58 Are there few who are saved? is a tract that questions that many people will be saved. Wide is the road to destruction and narrow is the road to heaven. "Narrow" has the idea that with difficulty and much energy, one will find that road. Those who are saved, have faith, not works as the basis for that salvation.
View Tract: salv58 Are there few who are saved?
MySwordmodules is a website dedicate to the MySword Bible Program for Androird devices. We host MySword Modules.
Donate a Cup of Coffee to Me



It takes a lot of work, energy, time, and money to create, maintain, protect, and make new works constantly. While you may benefit from all my work only spending 5 minutes a week, it takes me hours and hours, and hackers attacking, many more. Just $5 dollars goes a long way to cover my financial burden of managing this site.
Click to donate any amount.