The Evangelists
By John Gifford Bellet
Being Meditations upon the Four Gospels with an additional section on the Character of the Lord Jesus Christ in the Gospels.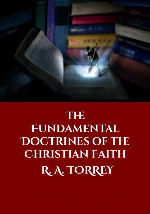 Torrey Fundamental Doctrines of the Christian Faith is a set of 15 chapters on various doctrinal themes in the Bible. Some of these chapters are...
1. Inspiration, or to what extent is the Bible Inspired of God?
2. The Christian conception of God...
4. The Deity of Jesus Christ
5. Jesus Christ, a Real Man
6. The Personality of the Holy Spirit
7. The Deity of the Holy Spirit and the Distinction between the Father, Son and Holy Spirit
8. The Atonement...
9. The Distinctive Doctrine of Protestantism: Justification by Faith
10. The New Birth
11. Sanctification
12. The Resurrection of the Body of Jesus and of our Bodies
13. The Devil
14. Is there a Literal Hell?
15. Is Future Punishment Everlasting?
Published in 1918. Downloads:
PDF: Torrey Fundamental Doctrines
theWord: Torrey Fundamental Doctrines
MySword: Torrey Fundamental Doctrines
eSword: Torrey Fundamental Doctrines
CONTENTS
1. On the Gospel by John
2. On the Gospel by Luke.
3. On the Gospel by Matthew.
4. On the Gospel by Mark.
5. The Characters of the Lord Jesus Christ in the Gospels.
More works by John Gifford Bellet
More works on the Gospels

MySwordmodules is a website dedicate to the MySword Bible Program for Androird devices. We host MySword Modules.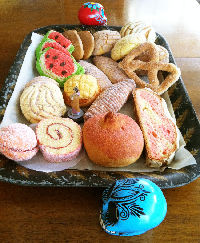 Buy me a piece of Mexican SweetBread!
Everybody likes sweet bread. In Mexico, it is a tradition to eat this sweetbread with coffee or hot chocolate before going to bed. But alas, while you are also enjoying the delicious stuff from my websites, I am out of money. A gift of any amount will at least let us buy a piece of sweetbread.
Please donate something for the upkeep of this website. I am bearing the burden of the monthly upkeep for years now, and I only have a few donations PER YEAR out of all of my websites, and that only like $25 dollars each time.