The Reformed Faith
by Loraine Boettner
In this 8 chapter work, Boettner (Reformed, Presbyterian) presents the Reformed faith, basically Calvinism. His chapters are the sovereignty of God, man's totally helpless condition, Christ's atonement, God's foreknowledge, the universalistic passages, the two systems contrasted, the five points of Arminianism, and the five points of Calvinism.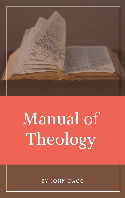 Dagg Manual of Theology (and links to this work in various other formats).
Dagg Manual of Theology (MySword for Android)
Dagg Manual of Theology (theWord Bible Format)
Dagg Manual of Theology (esword format)
Dagg Manual of Theology (PDF Format)

Chapters
The Sovereignty of God
Man's Totally Helpless Condition
Christ's Atonement
The Foreknowledge of God
The Universalistic Passages
The Two systems Contrasted
The "Five Points" of Arminianism
The "Five Points" of Calvinism

Donate a Cup of Coffee to Me



It takes a lot of work, energy, time, and money to create, maintain, protect, and make new works constantly. While you may benefit from all my work only spending 5 minutes a week, it takes me hours and hours, and hackers attacking, many more. Just $5 dollars goes a long way to cover my financial burden of managing this site.
Click to donate any amount.
MySwordmodules is a website dedicate to the MySword Bible Program for Androird devices. We host MySword Modules.

.
Please help us keep this website up. We work hard to be a blessing to you. Donate to us. Even a $5 or $10 donation is greatly appreciated. All donations will go to pay hosting and domain fees.
https://www.paypal.com/paypalme/davidcoxmex is the link to get to PayPal.
You can use your PayPal account if you have one, or you can donate using any normal debit or credit card, pay through PayPal and chose just Debit or Credit Card.