Showers on the Grass.
By J.G. Bellet
Being a few brief letters & papers, addressed to C. E. M. Paul, of Exeter,
by the late J. G. Bellett, of Dublin. This work is basically 34 personal letters from Bellett.
London: G. Morrish, 24, Warwick Lane, Paternoster Row, E. C.
"My doctrine shall drop as the rain, my speech shall distil as the dew, as the small rain upon the tender herb, and as the showers upon the grass." — Deut. 32:2.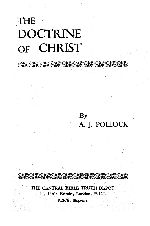 Pollock Doctrine of Christ 2 John 1:9-11 is a single chapter work of 28 pages looking at different aspects of the Doctrine of Christ.
PDF: Pollock Doctrine of Christ
theWord: Pollock Doctrine of Christ
MySword: Pollock Doctrine of Christ
eSword: Pollock Doctrine of Christ
This work is basically 34 personal letters from Bellett.
More works by John Gifford Bellet
CONTENTS of Showers on the Grass
Papers.
The Law and the Gospel.
Romans 8:19 – 22.
1 Samuel 1-7.
Genesis 49 and Deut. 33.
John 3.
Jacob at Peniel.
The Case of Job.
Deuteronomy 8:7-9; 11:10-12.
1 Corinthians 11:3-16.
The Woman in the Crowd, Mark 5.
Patronage.
Divine Intimacy.
Election.
Redemption, Leviticus 25.
Genesis 1-47.
Preface.
It has been a pleasant recreation to gather up and arrange these few simple papers for the press. There is living water here. The heart testifies to the unvarying freshness of the matter.
The reader will quickly perceive that there does not exist any special narrative interest in the letters — they are given for the sake of the touching sympathy and hallowed tone expressed in them. How truly they were found to the patient and tried one to whom they were addressed to be as showers upon the grass.
May the Master be pleased to use them for spiritual refreshment to any whose lot may be cast in a similar path of affliction.
C. McA.
London, 1865.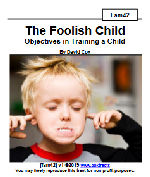 fam42 The Foolish Child explains what the Bible teaches on fools and foolishness, and also a parent's solution to a foolish child.
Excerpts: Ecclesiastes 4:13 Better is a poor and a wise child than an old and foolish king, who will no more be admonished. A fool is a person who rejects advice.
We can define the concept of foolishness as the lack of values and vision toward eternity, toward spiritual things. In other words, this person lives focusing on things that the person wants, and he does not pay attention to what God says as being important, or how God says we should live.
Proverbs 18:2 A fool hath no delight in understanding, but that his heart may discover itself.
The basis of being wise is that you do not limit yourself, to just what you think you know. A wise person opens his thinking to the wisdom and advice of others, and weighs others' opinions to see if they are right or not. The foolish only considers what he himself thinks, or what other fools like him think.
View tract: fam42 The Foolish Child
MySwordmodules is a website dedicate to the MySword Bible Program for Androird devices. We host MySword Modules.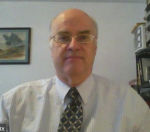 I am Pastor David Cox, the Webmaster of this site. I am an independent Baptist Missionary pastor working in Mexico City since 1984. Many churches reject a fundamentalist because we do not accept the many false doctrines that modern churches have in common. We believe the Bible, and we preach and teach it. I have written over 400+ tracts and more than 60+ books which are just an extension of my pulpit ministry. All are free. Please help us keep this good material on the Internet for the world.

If you like what you see on this website, please help us with even a small donation. These sites cost me about $10 per month per site. Please donate something to help with this burden.
----->>>Donate something today <<<-----
Note: I am a local church missionary, and you can find my home church here (davidcoxmex.com) where you can write a check to our ministry and receive a tax-deductible receipt at the end of the year.